Welcome to Bethany College Hurstville, a centre of quality Catholic education for girls from Year 7 to Year 12.
Bethany College had its beginnings in 1993, when the rich traditions of the Sisters of St Joseph and the Sisters of Charity were combined to meet the educational needs of girls in the St George area of Sydney, NSW.
At Bethany, we pride ourselves on having a warm and welcoming atmosphere where we strive for each girl to feel safe, happy and confident. This in turn provides the best learning environment for each girl to grow. Bethany girls are encouraged to set goals to achieve their best in the classroom, in extra curricular activities and in their relationships.
With a focus on collaboration and continual personal growth, Bethany girls have achieved outstanding HSC results with our College consistently ranked inside the top 100 schools across the State.
Students at the college enjoy wonderful facilities – including a collaborative library space, state of the art facilities for visual arts, dance, music, drama, design subjects, a commercial kitchen and multimedia equipment.
For parents considering applying for enrolment for their daughters, we look forward to answering your enrolment enquiries and welcoming you and your daughter into the Bethany College community.
At Bethany, we strive to have young girls develop into young women who are strong in faith, intellect and character and who are inspired to achieve their personal best.
Ms Robyn Rodwell
Principal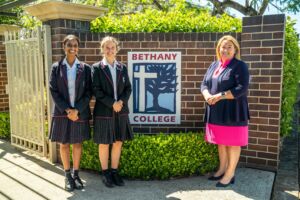 Proudly Part of the Community of Sydney Catholic Schools
Our school is part of a system of over 150 low-fee Catholic schools in the Sydney Archdiocese.
Sydney Catholic Schools are thriving Catholic communities that ignite a love of Christ through excellent teaching and learning to empower students to reach their full potential.